Blood Donations Are Needed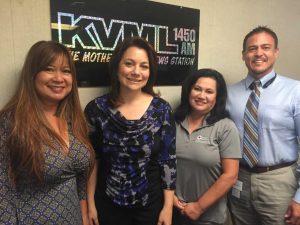 American Red Cross Representatives

View Photos
The American Red Cross has issued a call for blood and platelets, urging all eligible donors to give now to replenish the nation's blood supply.
Christine Welch, Jeri Ostil Hernandez, Jason Benedict and Liza Cruz, all associated with the American Red Cross, were Thursday's KVML "Newsmakers of the Day".
Blood donations through the Red Cross across the country have fallen short of hospital needs after the hurricanes and the massacre in Las Vegas, resulting in fewer donations nationwide than what's needed, as well as a significant draw down of the overall Red Cross blood supply. The Red Cross strives to keep a five-day blood supply available at all times to meet the needs of patients every day and be prepared for emergencies that would require significant volumes of donated blood products.
According to Welch, "Blood products are often distributed to hospitals faster than donations come in, which is why we are making this request for donations. If you've thought about giving blood and helping to save lives, now is the time to do it. It's the blood donations on the shelves that help save lives when an emergency occurs."
To schedule an appointment to donate, use the free Blood Donor App, visit redcrossblood.org or call 1-800-RED CROSS (1-800-733-2767). Donors with all blood types are needed.
In Tuolumne County, blood may be donated at the Sonora Blood Donation Center, 850 Sanguinetti Road, Tuesdays: 9 a.m. – 4 p.m., Fridays: 9 a.m. – 4 p.m., and Saturdays: 9 a.m. – 4 p.m.
Every two seconds in the United States blood and platelets are needed to respond to patient emergencies, including accident and burn victims, heart surgery and organ transplant procedures, and patients receiving treatment for leukemia, cancer or sickle cell disease. The Red Cross must collect approximately 14,000 blood and platelet donations every day for patients at about 2,600 hospitals and transfusion centers nationwide.
The American Red Cross shelters, feeds and provides emotional support to victims of disasters; supplies about 40 percent of the nation's blood; teaches skills that save lives; provides international humanitarian aid; and supports military members and their families. The Red Cross is a not-for-profit organization that depends on volunteers and the generosity of the American public to perform its mission.
For more information, visit redcross.org.
The "Newsmaker of the Day" is heard every weekday morning at 6:45, 7:45 and 8:45 on AM 1450 and FM 102.7 KVML.