Murphys Resident Arrested For Making Death Threats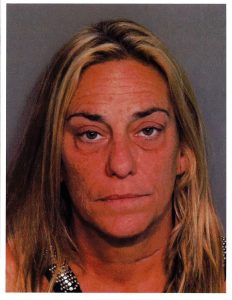 Kimberly Sturgeon AC Police Booking Photo

View Photos
Angels Camp, CA — Police say they arrested a woman who allegedly threatened a victim over several days, sometimes while brandishing a knife at the victim's home and also intimating a murder-for-hire plan.
According to Angels Camp police, Kimberly J. Sturgeon, a 48-year-old Murphys resident was ultimately arrested on charges related to making criminal threats following a follow-up visit to her in the 3000 block of Brice Station Road this past Friday evening after the alleged victim called in from Angels Camp, where a civil dispute over a piece of jewelry had escalated over several days.
The victim reported initially receiving a woman's ring from Sturgeon as payment for other property that was exchanged between the two. Sturgeon later demanded payment for the ring after the victim no longer possessed it and began to make threats over a period of several days; sometimes brandishing a large knife and arriving at the victim's residence unannounced. During one of the times the blade was allegedly shown, Sturgeon additionally indicated to the victim that people had been employed to make the kill.
Sturgeon was subsequently transported and booked into the Calaveras County Jail on a felony charge of making criminal threats. The investigating officer also requested that the district attorney's office review the case for additional charges related to stalking. No weapons were recovered at the time of the arrest.