Vandalism Forces Post Office To Reduce After Hour Access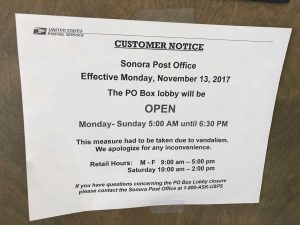 Sonora Post Office posting

View Photos
Sonora, CA – PO Box customers at Sonora's main post office are being greeted by a sign notifying them they will no longer have 24 hour access to their mail.
Post office officials say the move comes in the wake of vandalism during the overnight hours in the PO Box lobby at 781 South Washington Street. No details are being given regarding exactly what vandalism occurred. Beginning Monday (Nov. 13th) the doors to the lobby will be locked from 6:30 p.m. to 5 a.m. Monday through Sunday meaning customers can only accesses boxes from 5 a.m. to 6:30 p.m. each day.  The posting does note that post office officials "apologize for any inconvenience."
The regular business office hours are Monday through Friday from 9 a.m. – 5 p.m. and Saturday from 10 a.m. to 2 p.m.  Clarke Broadcasting has contacted a post office spokesperson regarding the lobby closure who is currently working to provide further detail.