Sheriff's Community Service Unit Celebrates 25 Years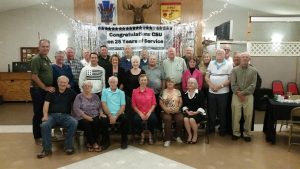 Tuolumne County Community Service Unit Celebrates 25 years

View Photos
Sonora, CA — Since its origination in 1992, the Tuolumne County Sheriff's Community Service Unit volunteers have donated 367,000 hours to the community.
The sheriff's office estimates that it has saved the county around $10-million. The CSU celebrated its 25th anniversary at its annual awards dinner. According to the sheriff's office, some of the duties of the CSU include assisting with neighborhood watch, securing crime scenes, helping with disaster response, subpoena service, fingerprinting for concealed weapon permits, providing transportation for witnesses to court, crowd control at events, and taking care of the five CSU offices spread across the county. The unit has also made over 11,000 house number signs.
Also of note, at the awards dinner John and Judy Klink were given special recognition upon their retirement from the unit following many years of volunteering.