Update: Red Flag Warning, Sierra Nevada Wind Advisory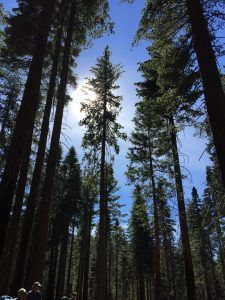 Stanislaus National Forest

View Photos
A Red Flag Warning has been issued for the Mother Lode (1,000 to 3,000 feet), the Northern San Joaquin Valley (below 1,000 feet excluding the Delta) and the Stanislaus National Forest through 5 PM this afternoon.
Additionally, a Wind Advisory remains in effect for the Sierra Nevada through 9 AM this morning.
According to the National Weather Service, winds continue to range from twenty to forty mph with gusts up to fifty-five mph.
The daytime minimum humidity will range between seven to nineteen percent. Overnight recovery values range between twenty-five and fifty percent.
The most critical areas of concern is across exposed ridges and through wind-aligned drainages during the overnight and morning hours.
Outdoor burning is not recommended and is currently banned in the Mother Lode.
A Red Flag Warning means that critical fire weather conditions are either occurring now or will shortly. A combination of strong winds, low relative humidity and warm temperatures can contribute to extreme fire behavior.
A Wind Advisory means that sustained winds of twenty-five to thirty-nine mph or gusts forty to fifty-seven mph are possible. Winds this strong can cause blowing debris and make driving difficult, especially for high profile vehicles. Secure lose objects that could be damaged by the wind and use extra caution driving.