Fire Weather Watch Issued For the Mother Lode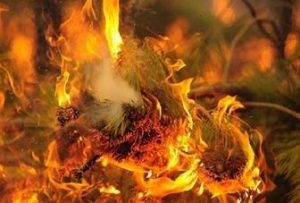 Generic Fire Photo

View Photos
The National Weather Service has issued a Fire Weather Watch for the Mother Lode from 1,000 to 3,000 feet and the Stanislaus National Forest, which is in effect from Sunday afternoon through late Monday night.
Gusty northerly or offshore winds will develop with warming and drying conditions beginning Saturday over the Sierra Nevada and continue through Monday night.
The combination of offshore winds and a dry day and night airmass, may generate critical fire weather conditions.
Sustained winds of ten to twenty mph are expected, with gusts up to twenty-five to thirty mph over the exposed ridges and maybe even stronger through aligned canyons. The strongest winds expected during overnight and morning hours.
Daytime humidity of fifteen to twenty-five percent is forecast with the main concern being minimal humidity recovery overnight.
Any fires that develop will likely spread rapidly. Outdoor burning is not recommended.
A Fire Weather Watch means that critical fire weather conditions are forecast to occur. Monitor the latest forecasts and prepare for possible Red Flag Warnings.