Caltrans Upcoming Work Schedule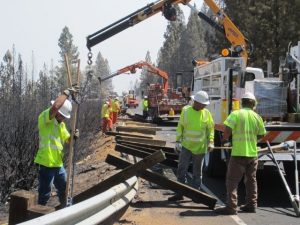 Caltrans Crews

View Photos
Sonora, CA — Caltrans crews will be working in various areas of the Mother Lode over the next week.
In Calaveras County, paving will take place on Highway 4, near the end of the bypass in Angels Camp, from Sunday through Friday, from 7pm until 6am. 10-minute delays can be expected. On Highway 4 from Upper Moran Road to the Calaveras Big Trees State Park entrance, 10-minute delays are planned due to ongoing drainage work from 6am-6pm, Monday through Friday.
On Highway 49, 10-minute delays are anticipated, Sunday through Friday, between Angels Creek and the Tuolumne-Calaveras line. Repairs continue to be made following an accident in that area last week. In addition, Sunday through Tuesday, 15-minute delays can be anticipated at that same location from noon until 5pm. On Highway 49 from Pool Station Road to High School Street, paving will take place just on Tuesday from 7am-5pm.
In Tuolumne County, paving work will take place at various locations throughout the week on Highway 108, between 8pm until 6am. Delays will range from 5-15 minutes. Work will take place near Chicken Ranch Road, Phoenix Lake Road and Via Este, according to Caltrans.
10-minute traffic delays will also continue on Highway 120 in south Tuolumne County at the bridge over the Tuolumne River.