Update: Structure Fire In Tuolumne One Person Inside Home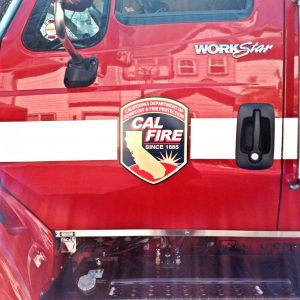 Cal Fire Truck

View Photos
Update at 6:30 p.m.: CAL Fire spokesperson Emily Kilgore states, "The smoke that was coming from the structure on Stag Circle was determined to be from food that was left on the stove. One patient was evaluated at the scene for smoke inhalation. However, that incident is now completed."
Update at 5:45 p.m.: CAL Fire spokesperson Emily Kilgore reports that firefighter found an elderly person at the home and that person was suffering from smoke inhalation. An ambulance was called to the scene but it is not clear whether the victim was taken to a hospital.
Original post at 5:21 p.m.: Tuolumne, CA — Firefighters are on the scene of a residential structure fire on the 18960 block of Stag Circle near Ponderosa Way in Tuolumne.
CAL Fire spokesperson Emily Kilgore reports it is a one story, wood frame home. She adds that when firefighters arrived at the scene they found light smoke coming from the house. The flames have not spread to vegetation and incoming crews have been cancelled according to Kilgore. We will bring you updates as soon as they come into the newsroom.