Riot At Sierra Conservation Center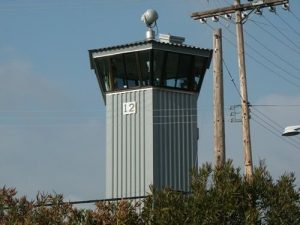 Sierra Conservation Center

View Photos
Jamestown, CA – Sierra Conservation Center (SCC) officials report gun fire and gas had to be used to break-up the fight that injured several inmates this morning at the Jamestown prison.
An investigation by the California Department of Corrections and Rehabilitation is underway into the riot that involved around 350 to 380 inmates. The uproar broke out around 9:50 a.m. on the Level II Facility B main exercise yard. Lt Robert Kelsey states, "In order to quell the incident, we actually have two towers one and four, they fired three riffle shots. One of the towers fired twice. Responding staff on the yard utilized 40 millimeter launchers with both direct impact rounds [rubber bullets] and then indirect wood baton rounds as well as OC [Oleoresin Capsicum] pepper spray and tear gas. They did not end up having to use physical force. The riot lasted approximately four to five minutes."
Officers are currently making what is referred to as "restraint sweeps" and medical evaluations of all inmates involved in the skirmish. Lt. Kelsey advises that five inmates had serious bodily injuries, which could result in felony charges against some prisoners. He adds, "We haven't found any weapons…It looks as though it [riot] was fairly spontaneous. All the injuries look to be from either their fists or feet from inmates kicking each other, things like that. We ended up sending out four ground ambulances and one air ambulance."
Several other inmates are being treated at the prison by medical staff. No staff was hurt in the incident.
Investigators have not been able to determine what sparked the riot. The prison is on modified program pending further investigation and Facility B will remain on that program until the investigation is completed. Lt. Kelsey says that could take several days.