Happy Ending For Missing Siblings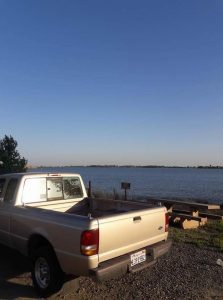 Vincent Buerer's truck

View Photos
Tuolumne County, CA — A brother and sister were reported "overdue" by a family member this morning after not returning from an excursion to the Stanislaus National Forest.
Tuolumne County Sheriff's officials are happy to report that 39-year-old Vincent "Marty" Buerer of Oakdale and 42-year-old Anastasia Buerer of Sonora were located safe and sound around 11:30 a.m. on Thursday.
Deputies had been dispatched to the Eagle Meadow area this morning after receiving a call from the sibling's sister who reported they had left Sonora at 3 p.m. on Tuesday in Vincent's pick-up for a day trip to the forest in the area of Forest Road 5N01 and had not been heard from since. Sgt. Deborah Moss reports that deputies spotted the truck stuck in an embankment on an unnamed dirt road. She adds, "Both are in good condition."
Moss had no further details on their overnight stay in the forest or exactly how the pick-up ended up in the ditch.