Tuolumne County Missing Persons' Awareness Day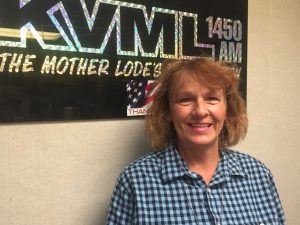 Sandy Lee
Local book author Sandy Lee has just released a book of poems and is preparing for the 2nd Annual Tuolumne County Missing Persons' Awareness Day.
Lee was Wednesday's KVML "Newsmaker of the Day".
The name of the new book is "Life, Love and Loss: A Collection of Poems That Will Touch Your Heart". It is available at Mountain Books in Sonora.
The ninety-three page book contains forty poems written over the decades by Lee. One of the poems was written during High School. Other poems deal with Alzheimers, Foster Care, family and pets. Part of the proceeds of this book will go toward POMC (Parents of Murdered Children).
Lee lives in Sonora, California with her husband of 38 years.
She started writing in January of 2013, after her 36 year old son suddenly went missing a few years earlier. The events that happened while she and her family searched for him were so unbelievable, she just couldn't keep them to herself any longer. "No Unturned Stone – A Mother's Quest" is the result of that journey. Part of the proceeds of every copy personally sold, goes toward a yearly scholarship for high school students studying criminal justice or forensic science.
This was followed by "Hermie the Bug", Lee's first children's book. The story teaches young readers to respect all living creatures. A Missing Children's organization is helped from part of the proceeds of this book.
The 2nd Annual Tuolumne County Missing Person's Awareness Day will take place on Sunday, September 10th from Noon through 3 PM at the Fallon Rose Garden in Columbia State Historic Park.
The public is invited to this free event. Families and friends affected by the unsolved disappearance of a loved one are encouraged to wear memorial t-shirts and bring posters to commemorate those who will not be forgotten. Everyone is invited to bring their own picnics and drinks.
For more information, call Lee at 209-743-5223 or email amothersquest@gmail.com
The "Newsmaker of the Day" is heard every weekday morning at 6:45, 7:45 and 8:45 on AM 1450 and FM 102.7 KVML.