Pinecrest Drug Arrest May Lead To Recovery Of Stolen Possessions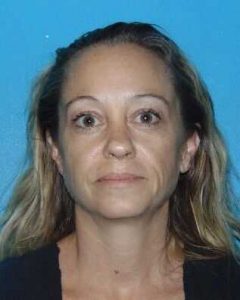 Kenni Lee Sullivan, TCSO Booking Photo

View Photos
Sonora, CA – Items missing from recent burglaries along with drugs were recovered from a Pinecrest cabin as deputies arrested its occupant, who was also wanted on outstanding out-of-county warrants.
According to Tuolumne County Sheriff's spokesperson Sgt. Andrea Benson, deputies recently conducted a probation search on Kenni Lee Sullivan, 44, at the cabin, located on Sugar Pine Loop. On probation out of Stanislaus County for drug possession, law enforcement officials had a warrant out on her for violating it and failing to appear on drug possession charges.
It was during a search of the residence that deputies initially located items related to the manufacturing of honey oil, which drew a charge of manufacturing a controlled substance. However, additional items were discovered that matched the description of possessions taken during recent thefts from homes. Among these are an axe, alcohol, jewelry and coins, which were taken by the deputies for positive identification and the eventual return to their rightful owner.