Tuolumne County Staying Neutral On Federal Land Swap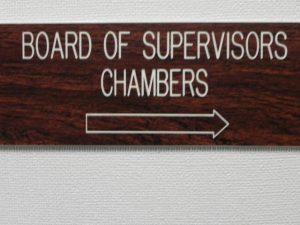 Tuolumne County Board of Supervisors Sign

View Photos
Sonora, CA — Citing private property rights, the Tuolumne County Supervisors chose to stay neutral on a plan to transfer 900 acres of Sierra Pacific Industries land to the federal government.
That said, they are critical of some of the language included in the Draft Environmental Impact Statement prepared for the planned land swap.
It is part of a complex deal proposed by the operators of the Mammoth Lakes ski resort. The Mammoth group will receive 35.6 acres of national forest land, adjacent to the resort, currently in the Inyo National Forest. In exchange for the highly sought after property, the Mammoth Lodge group has worked out a deal to give 1,296 acres to the U.S. Forest Service, of which, 900 acres is currently owned by Sierra Pacific Industries. The specific four parcels, surrounded by the Stanislaus National Forest, are in various locations around the Clavey River watershed near Yosemite National Park.
Sierra Pacific Industries has relayed to the county that the land included in the deal is too challenging for timber harvesting, so it has little use to them. The loss of annual property tax revenue to the county would be $569.
The federal Draft Environmental Impact Statement noted that the changes in land ownership would only have "minor economic impacts." Tuolumne County leaders, concerned about the federal government's ability to manage its existing forestlands, prepared a draft letter stating, "Unfortunately, Tuolumne County is extremely familiar with the economic impacts of large wildland fires, illegal cannabis cultivation and drastic reductions to timber sales in the forest all as a result of a lack of land management by the federal government."
The Board voted unanimously today to stay neutral on the land swap itself, as it is beneficial to local company Sierra Pacific Industries, and citing their private property rights, but at the same time are voicing concerns about the environmental report prepared for the acquisition.
The proposed swap was tentatively accepted by the Inyo National Forest in 2011, but it was put on hold until changes could be made via legislation related to land acquisition. The U.S. Forest Service is now taking public comments on the Draft EIS through August 20.