Calaveras, Stanislaus Partner On Groundwater Stewardship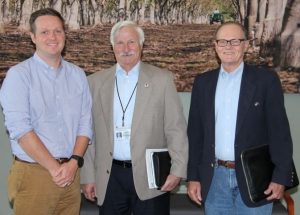 CCWD Water Resources Mgr Peter Martin, Calaveras District 4 Supervisor Dennis Mills, Stanislaus County Water Resources Mgr Walter Ward celebrate new Eastside GSA partnership

View Photos
San Andreas, CA – What is being billed as the first-ever partnership between Calaveras and Stanislaus counties has been forged to protect a shared groundwater system.
The relationship was triggered by a three-bill package known as the Sustainable Groundwater Management Act (SGMA) signed into law by Governor Jerry Brown back in the fall of 2014, empowering water agencies to sustainably – and locally — manage groundwater plans for the state's key basins.
This has led to Calaveras County Water District (CCWD), Rock Creek Water District, and Stanislaus County forming a groundwater sustainability agency that will steward the Eastern San Joaquin Groundwater Sub basin. According to CCWD officials, Calaveras County will be coming on board this fall via an amended memorandum of understanding between the four agencies.
"This is a historic achievement," states CCWD General Manager Dave Eggerton. "It will be invaluable in helping us address the challenges of restoring the health of the groundwater basin." He adds that the partnership of counties and water agencies that crosses county lines and agency boundaries provides a collaborative model for working together towards the restoration of a depleted groundwater basin.
The "Eastside GSA," as it has been named, will cover an approximately 198 square-mile area of the Eastern San Joaquin Sub basin within Calaveras County and portions of Stanislaus County that are not already within another GSA boundary. Known as the "triangle," officials say it has been critically over drafted since 1980, pointing to years of unsustainable groundwater pumping practices throughout much of California that have been key factors in causing land subsidence, dry wells and poor water quality.
The GSA will now work with other stakeholders overlying the Eastern San Joaquin Groundwater Basin to develop a Groundwater Sustainability Plan (GSP), which must be in place by 2020. According to the partners, the plan will create a road map for establishing groundwater "sustainability" in the basin by 2040. Millions in state grant funding is expected to be tappable for helping fund plan development. As part of the state requirements, the partners will be doing outreach with landowners and groundwater users in the boundaries of the planning area as well as working collaboratively with the 15 other GSAs in the Eastern San Joaquin Groundwater Basin to meet the SGMA obligations.