CA Lawmakers React To Charlottesville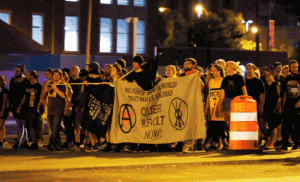 Counter Protest In Virginia Sunday Evening

View Photos
California lawmakers are responding to the attack and deaths that happened over the weekend at a white nationalist rally in Virginia.
US Senator Dianne Feinstein says, "Violent acts of hate and bigotry have no place in America…violence like this will solve nothing and will only begot more violence and sow more division." Senator Kamala Harris adds, "Every single day we must choose hope over despair and love over hatred. We are a stronger nation because of our diversity." Congressman Tom McClintock notes, "The bigotry that came to Charlottesville is a rejection of the very principles on which our nation was founded."
The Ohio suspect, 20-year-old James Alex Fields Jr., described as a Nazi-sympathizer, accused of plowing his car into counter protestors, is scheduled to make his first court appearance today. He is charged with second degree murder, and other counts, for his alleged role in killing one woman and injuring 19 others.
The Associated Press reports that a past high school teacher noted that Fields was fascinated with Nazism and had been signaled out in 9th grade for "deeply held, radical" convictions on race.
Two state troopers, Pilot Lt. H. Jay Cullen and Trooper-Pilot Berke M.M. Bates also died on Saturday when their helicopter crashed while responding to the violence.
You can read more of the Associated Press coverage in the myMotherLode.com US News section by clicking here.