Hiker Missing Along Pacific Crest Trail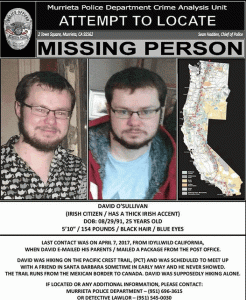 Missing Hiker David O'Sullivan

View Photos
Officials are looking for a man who has gone missing while hiking along the Pacific Crest Trail.
The 2,600 mile trail stretches from Southern California to Canada, and crosses over areas like Highway 108 Sonora Pass, Highway 4 Ebbetts Pass and Yosemite National Park.
David O'Sullivan from Ireland was last seen along the trail this past April in Riverside County, and he was heading north. The Associated Press reports that his family has been reaching out on social media to "trail angels," who are people known to aid hikers on the trek, hoping someone will remember meeting him. O'Sullivan was planning to meet up with a friend earlier this summer along the trail, but failed to do so. He has black hair, blue eyes and a thick Irish accent. He was last seen hiking alone with a neon blue backpack.