Officer Involved Shooting In Knights Ferry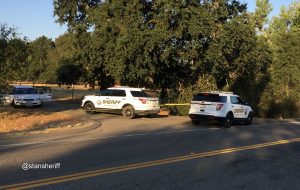 Knights Ferry Shooting Investigation

View Photos
Knights Ferry, CA — The Stanislaus County Sheriff's Office reports that a multi-agency investigation is underway in relation to a deputy involved shooting near the 50's Roadhouse Diner in Knights Ferry.
It happened at 11:25pm on Monday on Sonora Road. A Stanislaus County Sheriff's Deputy contacted two men inside a vehicle. One of the men, 35-years-old and unidentified, was placed into the back of the patrol car. The second man, 28-years-old and also unidentified, fled the scene on foot. The deputy was able to catch the man, and a physical fight ensued. During the altercation the sheriff's deputy shot the suspect with a firearm. The man was later transported to an emergency room for treatment. The deputy had minor injuries and was treated and released at a local  hospital.
The Stanislaus County Sheriff's Office has released a statement, reading, "Three separate and independent investigations have been launched into this incident. The Stanislaus County Sheriff's Department is conducting both a criminal and administrative investigation and the Stanislaus County District Attorney's Office is conducting an independent review of the incident. If you have any information on this investigation please call Detective Hickman at 209-525-7042."
No further details have been released at this time.