Apparent Suicide On Main Street In Jamestown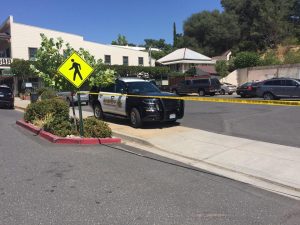 Tuolumne County Sheriff's deputies blocked off parking lot adjacent to National Hotel in Jamestown, on Aug 7,2017, the scene of an apparent suicide

View Photos
Update at 7 p.m.: The identity of the man who perished earlier today in downtown Jamestown, as reported below, has been released by Tuolumne County Sheriff's officials.
He is identified as 32-year-old Jason Pardun of Woodbridge, Virginia. According to sheriff's officials he was traveling alone and was in Tuolumne County on vacation.
Original Post at 2:42 p.m.: Jamestown, CA — Tuolumne County Sheriff's deputies, dispatched to a Jamestown hotel parking lot, confirm that a man is dead of a gunshot wound.
According to spokesperson Sgt. Andrea Benson, the incident occurred in the lot adjacent to the National Hotel on Main Street, where deputies were called to check out a report of a shot fired near or within a vehicle.
She states that an adult male, located in the back corner of the parking lot was confirmed deceased of an apparent self-inflicted gun shot wound. The release of his name will be made pending notification of kin.
Sgt. Benson notes that while her office generally does not report suicides, as the incident occurred in an open, public area and involved a firearm, officials wanted to make sure people knew they were not in danger.
The parking lot remains closed off at this time and investigators remain on-scene. The roadway adjacent to the incident is open.