No Change In Detwiler Fire Containment Or Acreage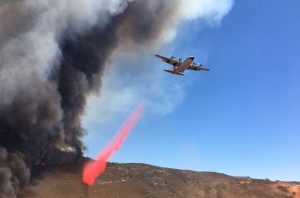 Detwiler Fire - 7-27-17

View Photos
Mariposa County, CA – The Detwiler Fire burning in Mariposa County has not budged  on both its acreage and containment.
On Tuesday firefighters continued working the fire, mop up and patrolling lines for possible hot spots, according to CAL Fire, which reports that all fire lines are holding. Also holding is the containment at 90 percent and the acreage at 81,826.
The American Red Cross will be at the Detwiler Fire Local Assistance Center at the Greeley Hill Community Hall located at 10332 Fiske Road in Coulterville on Wednesday from 9 a.m. to 7 p.m. Red Cross workers will conduct client intake for families affected by the fire. Red Cross officials indicate that due to space constraints, no donated items will be accepted at that site. Instead, food and clothing can be dropped off at New Life Christian Fellowship located at 5089 Cole Road in Mariposa. For more information contact the Red Cross public information line at 559-343-2549.