Public Invited To Community 'Night Out' Tuesday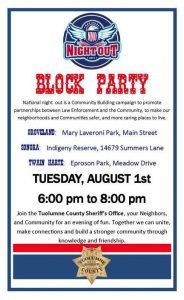 TCSO Night Out Block Party 2017 Invitation

View Photos
Sonora, CA – On Tuesday local law enforcement agencies across the country are hosting Night Out events to promote helping make the communities where they serve safer, more caring places to live.
Locally, the Tuolumne County Sheriff's Office is hosting three Night Out "Block Party" events from 6 to 8 p.m. in Sonora at Indigeny Reserve (14679 Summers Lane); in Twain Harte at Eproson Park (Meadow Drive); also in Groveland at Mary Laveroni Park (Main Street).
According to sheriff's spokesperson Sgt. Andrea Benson, Night Out events are scheduled to occur the first Tuesday each August as part of a united annual, community-building campaign to enhance relationships between neighbors and community law enforcement and help restore a true sense of community. "This event provides a great opportunity to make connections and build a stronger community through knowledge and friendships — and gives us [law officials and citizens] a chance to meet and know each other," she explains.
Sgt. Benson adds that the activities planned at the three locations are family-friendly, so children are more than welcome. "We will have the K9 deputies out there with the K9s so the kids will have the chance to the opportunity to meet them," she shares. Equipment displays are among the other attractions planned.