Update: Calaveras County Vegetation Fire Contained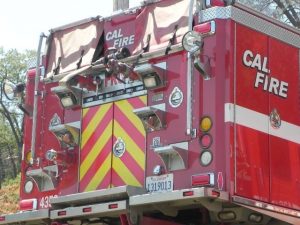 Cal Fire Truck

View Photos
Update at 4 p.m.: A vegetation fire burning in the Jenny Lind area that had threatened one structure has been contained, but not before the acreage spread from about eight acres to 15.2.
CAL Fire spokesperson Lindy Shoff  states, "We currently have one dozer, four engines and a water tender. They will be mopping up and investigating to determine what caused the fire." Shoff expects the mop up to going on for the next couple of hours. (For more details on the blaze see below.)
Update at 3:10 p.m.: CAL Fire reports the vegetation fire burning along Highway 26 in the Jenny Lind area is five to eight acres.
The flames broke out near North Wimer Road around 2:20 p.m. Tuesday. CAL Fire spokesperson Lindy Shoff reports that the flame's forward rate of spread has been stopped. She adds that one structure was initially threatened but it has since been mitigated. All incoming resources have been called off the scene. Currently, there  remains six engines, a dozer and a Columbia helicopter on scene.
Original post at 2:35 p.m.: Jenny Lind, CA — Air and ground resources are heading to a reported vegetation fire in Calaveras County.
CAL Fire reports it is in the Jenny Lind area along Highway 26 and North Wimer Road. There is no word on the fire's size, the flame's rate of spread or whether any structures are threatened. We will bring you more details as soon as they come into the news center.