Traffic Delays Continue On Highway 108/49 Near Jamestown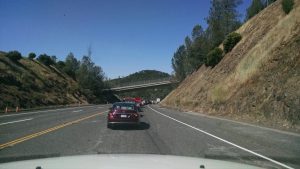 Traffic At A Stop On Highway 108

View Photos
Jamestown, CA — Traffic is again very slow going today on Highway 108/49 due to tree removal work in Jamestown.
Caltrans had earlier indicated that delays should be around 10 minutes, but up to 30 minute delays have been reported at times by travelers. The work is taking place this week from 8am-3pm through Thursday.
Be prepared for activity, and avoid the area if possible. The work is impacting north and southbound Highway 49 traffic from Jamestown Road to East Highway 108 near Sonora.
A special thanks to community news partner Paul Shinn for sending in a photo. Pictures can be sent to news@clarkebroadcasting.com.