Stolen Vehicle Recovered In Jamestown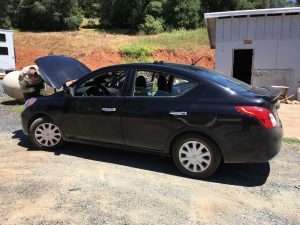 Vehicle Recovered In Jamestown

View Photos
Jamestown, CA — A car that had been stolen out of Amador County was located over the weekend in Jamestown, and several people were arrested at the location.
The Tuolumne County Sheriff's Office was conducting a followup interview at a house on Wigwam Road and several cars were parked in the driveway. One of which, a 2014 Nissan Versa, had recently been reported as stolen. Officials arrested the two people inside the car, 37-year-old Gregory Meder and 19-year-old Mistic Brandsted. Meder was arrested on charges of possession of a stolen vehicle and possession of narcotics. Brandsted was arrested on a drug charge.
Two people inside the residence, 39-year-old Stephen Belt and 31-year-old Stephanie Shelman, had outstanding warrants for their arrest, and were also taken into custody.
The Sonora Police Department and California Highway Patrol assisted in the investigation that occurred on Saturday.