Sting Netted Drugs And Guns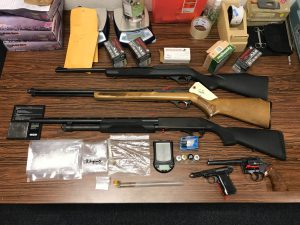 Drugs and guns seized

View Photos
Tuolumne County, CA – A several month long investigation pays off for the Tuolumne Narcotics Team after a raid turns up drugs and firearms.
Detectives raided a residence on Mormon Creek Road on Thursday afternoon. Once inside the home investigators seized more than 40 grams of methamphetamine, anabolic steroids, drug use paraphernalia, and several unlawfully possessed firearms.
42-year-old Larry Vannatta was arrested but not before resisting arrest and sustaining injuries that required him to be treated at a local hospital. He faces charges of resisting arrest, felony child endangerment, felon in possession of ammunition, felon in possession of firearms, armed while in the commission of a felony, illegal possession of steroids, possession of drug use paraphernalia, and for possession of controlled substances for sale.  Vannatta's bail is set at $50,000.