Fair And Jumping Frog Jubilee Update, Calaveras 'Idol' Winner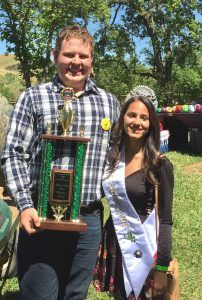 2017 Calaveras Idol Winner Keifer Minehart and Miss Calaveras Jillian Salvitti
Angels Camp, CA — Summer, making its unofficial debut at the Calaveras County annual Fair and Jumping Frog Jubilee, nudged afternoon crowds towards vendors of cool beverages and frozen delights in between a host of attractions.
Shortly after 2 p.m. Friday, as temperatures soared well into the 80s, this year's somewhat smaller contingent of contenders for "Calaveras Idol" took turns performing for the opportunity to take home a towering trophy and one-hundred-dollar prize check.
Today's Country 93.5 midday man Mark Corona served as host with presiding judges Bridgette Fanucchi of the morning show, afternoon host Tori James and Star 92.7 morning co-host Mark Grauer.
When all was brung and sung, Keifer Minehart of San Andreas took top honors for the second year in a row. This year his winning performance was a genial rendition of Leroy Van Dyke's country classic "The Auctioneer."
Other contestants were Jonny Arrow of Hathaway Pines; Kyle Cox of Arnold, who performed an original tune; Claudia Loomis of Angels Camp; and Colton Minehart, Keifer's brother.
Jillian Salvitti, this year's reigning Miss Calaveras and a talented singer in her own right, had pre-registered for the contest before winning her crown last evening. Showing up to cheer on the contenders, she withdrew her name from the competition, citing hoarseness from last night's excitement.
Click into the image box for a video of the big "Idol" win announcement — and to view a slideshow of colorful fair photos.
At 6 p.m. Keifer Minehart, this year's Calaveras Idol, will sing on the Main Stage ahead of Fair headliner Ned LeDoux, who performs at 8. At 9 local favorite Grover Anderson will perform at the Ranch House.
This weekend's sunny and blue skies forecast should draw well, according to Fair officials. For the full weekend schedule ahead click here.