The New Miss Calaveras 2017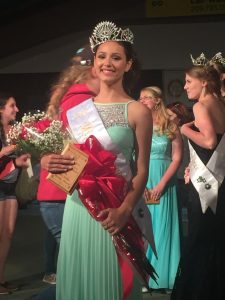 2017 Miss Calaveras Jillian Salvitti

View Photos
The 2017 Miss Calaveras was crowned Thursday night, during the Miss Calaveras Scholarship Pageant at the Calaveras County Fair and Jumping Frog Jubilee.
Jillian Salvitti was also Friday morning's KVML "Newsmaker of the Day".
Salvitti is a seventeen year old senior at Calaveras High School. She lives in West Point.
During the talent portion of the Scholarship Pageant, which was 30% of the judges total vote, Salvitti sang an original song and played a guitar. The song was in honor of a very close friend who passed away in 2015.
Salvitti will be using her $1,000 Angels-Murphy's Rotary Club Scholarship this fall, as she plans to attend Diablo Valley College in Pleasant Hill. From there she would like to attend U.C. Davis. Salvitti would like to study veterinary medicine.
In addition to the Scholarship, Salvitti received a tiara and sash and tied for Best Poetry Award.
First Runner-Up is Summer Hamari, a student at Brett Harte High School. Hamari received a $600 scholarship.
Second Runner-Up is Nicole Piper a student at Calaveras High School. Piper received a $400 scholarship.
All three ladies will make numerous appearances at all of the major Calaveras County Fair and Jumping Frog Jubilee events over the next three days and represent Calaveras County at larger events over the next year.
The "Newsmaker of the Day" is heard each weekday morning at 6:45. 7:45 and 8:45 on AM 1450 KVML and 102.7 FM