Update: Mono Way Reopens After Crash Slows Traffic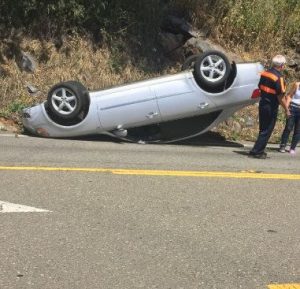 Mono Way Crash

View Photos
Update at 2:45 p.m.: The Sonora Police Department reports the wreckage has been cleared and Mono Way has completely reopened to traffic. Just before 2 p.m. a solo-vehicle rolled over on the roadway between Grocery Outlet and Clark Pest control. The vehicle was blocking one-lane. The entire roadway was shutdown for about five minutes as a tow crew loaded the wreckage onto a flat bed.  No injuries were reported in the crash.
Original post at 2:10 p.m.: Sonora, CA — A solo-vehicle crash on Mono Way in Sonora has created some traffic troubles.
The accident happened just before 2 p.m. on Mono Way between Grocery Outlet and Clark Pest control when a vehicle rolled over and came to rest blocking one lane of traffic.
Officer are directing traffic as tow crews work to remove the wreckage. Sonora Police report that there were no injuries in the crash. We will bring you more details as soon as they come into the newsroom.