Tuolumne County Facing Budget Shortfall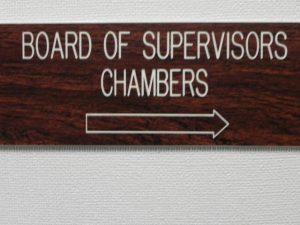 Tuolumne County Board of Supervisors Sign

View Photos
Sonora, CA — Tough decisions are ahead for Tuolumne County department heads, and the board of supervisors, as the county is facing a $3.9-million general fund budget shortfall next fiscal year.
At Tuesday's meeting the supervisors directed department heads to come back on June 6th with proposals for how they would reduce spending by 4-percent, 6-percent and 8-percent, and how those cuts would impact services. It was at the recommendation of District Five Supervisor Karl Rodefer, so the board can then have the task of deciding what cuts will be made from the various departments, and know the impact. The Supervisors indicated a willingness to use more of a band-aid approach next fiscal year, since the preliminary budget needs to be approved before July 1st, and then look at more innovative and structural changes in the months after, looking out 3-5 years.
Acknowledging that the window to identify potential cuts is small, District Two Supervisor Randy Hanvelt stated that it if the deficit for the next budget year is not reduced by the June 6th meeting, things could "really get ugly."
It was noted that the  budget shortfall is tied to things like increasing pension responsibilities, debt related to financing projects like the future jail, potential federal cuts to programs like the Secure Rural Schools and Community Self Determination Act, and running the new juvenile detention facility.
District Three Supervisor Evan Royce was very critical of the new juvenile detention facility playing a part in that deficit. He has been against the project since the early stages. It currently houses four juveniles and has a proposed budget next year of around $1.5-million dollars. It is up by around $1-million from what was anticipated when the project was first proposed. The county currently does not have any agreements signed with neighboring counties to house their juveniles, and there are 14.5 full time equivalent positions.
Royce stated, "I think it was really easy to move ahead with it (juvenile hall) at the time, when the arguments were being made, but I do feel that it was a mistake."
The county received a $16-million state grant to build the facility but is now in charge of funding its operations.