Disaster Related Updates, Details To Be Publicly Provided This Week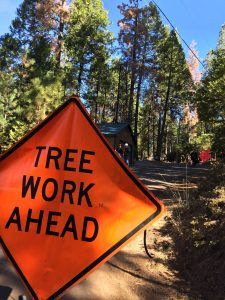 Tree Work sign

View Photos
Sonora, CA — Residents with concerns about public safety due to winter storm-ravaged roads, bark beetle-killed trees and what may be a very challenging fire season are invited to a public forum this week.
Scheduled for this Thursday in downtown Sonora the event will be co-hosted by several public agencies at the Tuolumne County Board of Supervisors fourth-floor chambers (2 South Green Street). While it will begin at 4 p.m., according to Stanislaus National Forest spokesperson Diana Fredlund, the forum is expected to last for at least a few hours, allowing for residents to attend it around home and family obligations.
Along with county officials, representatives from CAL Fire, the US Forest Service, the California Office of Emergency Services (Cal OES), Caltrans, PG&E, Hetch Hetchy Water and Power, and the Bureau of Land Management will be on hand.
Members of the public are encouraged to bring their questions. Organizers say anticipate that, among specific topics being covered are updates on the local road closures, plus alternate routes and current safety precautions.
Too, tree mortality and related removal projects will be detailed for interested residents, including those where assistance is available to homeowners for removing trees and debris. CAL Fire will also discuss its defensible space inspections and what residents' responsibilities are for maintaining those spaces around the home and property.