Democrats: American Health Care Act Is A Cruel Bill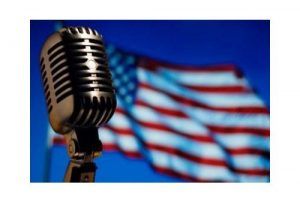 Microphone and US Flag

View Photos
In the Democratic Weekly Address, Senator Kirsten Gillibrand (D-NY) characterized the American Health Care Act as "cruel" and argued, "Nobody should be penalized just because they got sick. Or for being a woman. Or because they were born with a rare condition."
Gillibrand was Tuesday's KVML "Newsmaker of the Day". Here are her words:
"Hi, I'm New York Senator Kirsten Gillibrand.
Like millions of moms all across America, I celebrated Mother's Day with my family this weekend. And with the debate happening on Capitol Hill right now over the future of health care… Mother's Day is making me think a lot about how fortunate I am:
My husband and I are healthy, and we have two healthy kids — and we have a healthcare plan that will protect my family if any of us ever get sick.
But let me tell you one of the reasons why this is so personal to me.
I have two girlfriends, both my age, who survived cancer this year.
Both are moms of young girls, and both moms had the insurance and care they needed.
Both would not be with us today if they didn't have access to the surgery and chemotherapy that saved their lives.
Those kids need their moms on this Mother's Day — like all kids.
I understand that for too many, healthcare is still too expensive, and we should work to make Obamacare more affordable… but today, they can go see a doctor and get treatment if, God forbid, they ever get sick.
You probably know people who have the same fears or experiences of being diagnosed with life-threatening diseases without access to care. Or maybe that's similar to your own story.
It's time to stop the nonsense, and put people over politics.
I look at my kids, and I don't know what I would do if our family was going to be on the losing end of this cruel bill.
Please imagine how heartbreaking it would be if your child was sick and needed care, but couldn't afford the medicine, the treatment, or the surgery that was needed to save their lives.
It's unbearable to consider, and it goes against our American values.
A lot of us just watched Jimmy Kimmel painfully tell the story of his son Billy's open heart surgery.
Nobody should be penalized just because they got sick. Or for being a woman. Or because they were born with a rare condition. But if we don't stop this bill from passing the Senate, here's what could happen to millions of people:
If you're over 50, but too young for Medicare, insurance companies could start charging you five times as much as they charge younger Americans.
And states could be allowed to tell insurance companies to ignore that limit and charge even more.
That's an age tax — and it just isn't right.
Tom Price, the Secretary of Health and Human Services, recently tried to sidestep the question when he was asked if there are going to be any losers with this bill.
He refused to tell you the truth: If you're a woman watching this right now, one of the biggest losers from this bill is going to be you and your family.
This bill means that you might have to pay thousands of dollars a year, out of your own pocket, just to get maternity care and preventive care.
That's a tax on women.
Here in the Senate, the healthcare bill is being written by 13 men. Even for Washington, that's shocking.
They may not understand how important affordable preventive care is for women. So let me tell them why it's so important:
Millions of women all across America rely on their health insurance to pay for their breast exams to detect breast cancer, and their screenings for cervical cancer, every year.
Do they know how much birth control pills cost each month, or any other prescription needed for reproductive care?
Do they pay those bills? Do they realize that Planned Parenthood provides that basic care for 2.5 million people every year?
This care saves lives, whether they believe it or not.
If you don't like the sound of this bill — you're not alone.
Millions of Americans have been raising their voices and speaking out against this legislation.
Healthcare should not be for the wealthy and privileged only.
No one should be forced into bankruptcy because they are sick.
So I urge you to join with us and oppose this bill.
Write a letter to the editor, spread the word on social media, and call your representatives and tell them how this bill would hurt you. And get everyone you know to call them too.
This issue affects all of us. Please be heard!"
The "Newsmaker of the Day" is heard every weekday morning at 6:45, 7:45 and 8:45 on AM 1450 and FM 102.7 KVML.