Mother Lode Roundup Street Closures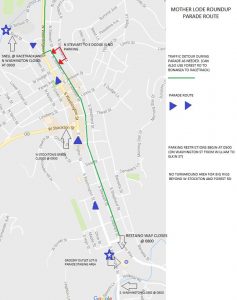 Mother Lode Roundup Parade Map

View Photos
Sonora, CA —  Empty chairs that will soon be filled with cheering revelers today as the 60th Annual Mother Lode Roundup Parade moves down Washington Street in downtown Sonora.
Thousands are expected to be on hand for the 10am annual event. The Sonora Police Department reminds that there will be several street closures, so you should plan ahead. Detours will be posted around the downtown area.
The below information has been released by the Sonora PD:
-South Washington Street, between Restano Way and Highway 108, will be closed at 8:00 am.
-North Washington Street, at Snell/Elkin to South Washington Street at Restano Way, will be closed at 9:30 a.m.
-All side streets between Stewart Street and Green Street will be closed at 9:30 a.m.
Portions of Snell Street and School Street will also be closed at this time.
-Westbound Mono Way traffic will be detoured onto Stewart Street at Restano Way. Vehicle traffic seeking access to Stockton Road will need to use Highway 108.
-Residents living in the Tuolumne Street, Calaveras Street, Nevada Street and Oregon Street areas will be allowed access to their neighborhood from the Highway 108 at South Washington Street closure.
"No parking" will be allowed on Washington Street from Elkin Street to Toby Street, between 5 am to the end of the parade. All side streets between Green Street and Stewart Street will be no parking zones, as well School Street, Wykoff Street and portions of Snell Street. The parking restrictions also apply to Stockton Road between Washington Street at 70 W. Stockton Road (Cazadora). Special signs have been posted for "No parking" zones, and any vehicles parked in these will be towed.
If you are planning on attending the parade, or participating in the parade, the Sonora Police Department encourages you to arrive before 9:00 am to find parking and get settled. Following the parade, the parade route will remain closed for approx. 10-15 minutes to allow spectators to leave the area. Motorists can expect heavy vehicle and pedestrian traffic at the conclusion of the parade resulting in delays.
Click here for a complete list of Mother Lode Roundup Events.
View the Parade with our webcam on Washington Street here: /multimedia/webcam/camera-one
(does not work with Internet Explorer, no sound, video with sound will be posted later)