Tuolumne County SWAT Team Aids Merced In 'Massive' Gang Bust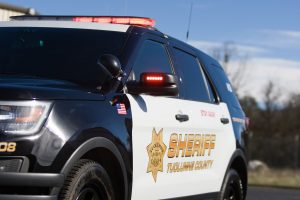 Tuolumne County Sheriff's Office Vehicle

View Photos
Merced County, CA — Members of the Tuolumne County Sheriff's Office SWAT Team and Crisis Negotiation Team aided in a gun and drug bust that netted over 50 gang members, assault weapons, meth and cash.
Dubbed "Operation Scrapbook," the target was members of the Sureno Gang in Merced County. Nearly 500 federal, state and local law enforcement personnel hit the streets on Wednesday executing raids on homes in the county.  In what is being called a "massive" sweep, the combine forces arrested 52 gang members, and hauled in 6.5 pounds of meth, more than 100 firearms including 21,000 rounds of ammo and $225k in cash.
"This is a tremendous day for public safety in Merced County. Some of the most violent criminals in our communities have been taken off our streets along with many of the weapons and substantial cash they use to commit murder and mayhem," stated Merced County District Attorney Larry Morse.
The bust was a culmination of an undercover surveillance sting beginning in January. Morse noted that based on intelligence gleaned from the investigation agents were able to provide local detectives with information regarding at least eight homicides and violent assaults and prevented at least 16 additional violent crimes.  Charges to be filed against those taken into custody include assault with a deadly weapon, conspiracy to traffic firearms and drugs, possession of firearms and ammunition by prohibited persons, all of which will include specific gang enhancements which increase prison sentences, according to Morse.
A call to Tuolumne County Sheriff's Office by Clarke Broadcasting to determine if its armored military type SWAT team Lenco BEARCAT MedCat was used in the raids was not returned.