Traffic Hazard In Downtown Sonora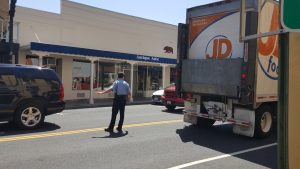 Traffic Delays In Sonora

View Photos
Sonora, CA — Traffic is slow going in downtown Sonora this morning as a big rig truck has broken down near the Washington Street and Stockton Road intersection.
The Sonora Police Department is on scene conducting traffic control. Police Department Spokesperson Lt. Turu Vanderweil reports that a tow truck is just arriving on scene, so the big rig should be removed shortly. Travel with caution in the area.
A special thanks to community news partner Kris Persson for sending in photos. Pictures can be e-mailed to news@clarkebroadcasting.com.