Illegal Firearm Confiscated During Groveland Traffic Stop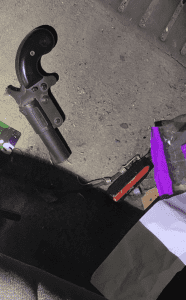 Illegal Firearm Confiscated

View Photos
Groveland, CA – A man was arrested after an illegal gun was found in his possession.
The Tuolumne County Sheriff's Office reports that 26-year-old Clinton Douglas Hart was pulled over on Main Street in Groveland because his vehicle had a cracked windshield, and the registration was over six months expired. The Sheriff's Office reports that Hart displayed symptoms of being under the influence of a controlled substance. A deputy asked him if there was anything illegal  in the vehicle, and Hart admitted to having a loaded Colt 45/410 short barreled shotgun under the driver's seat. This type of weapon is illegal to possess in the state. The deputy inspected the gun, and found a shotgun shell seated in the barrel.
Hart was arrested on several felony charges related to the possession of a loaded, illegal, firearm, as well as outstanding misdemeanor warrants. The passenger in the vehicle, 23-year-old Jeena Pauline Eunice, was also found to have outstanding felony and misdemeanor warrants. Both Hart and Eunice were booked into Tuolumne County Jail.