Kaitlyn Rumsey, 2017 Mother Lode Round-Up Junior Queen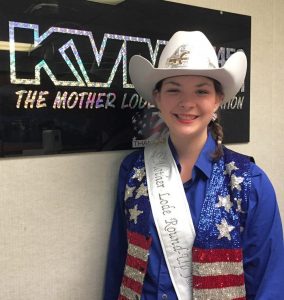 2017 Mother Lode Jr. Queen Kaitlyn Rumsey

View Photos
Last Sunday night, May 7th, Kaitlyn Rumsey was crowned the 2017 Mother Lode Round-Up Junior Queen.
Rumsey was Thursday's KVML "Newsmaker of the Day".
By being named the Jr Queen, Rumsey also won a tiara and a sash. Additionally, she received an award for High Ticket Sales.
Rumsey is a Sophomore at Sonora Union High School and is a member of the Sonora High School Golden Regiment Band. She competes in Trail Trials, Trail Challenges, Cowboy Races and Cowboy Challenges. Rumsey has six horses, an older brother, an older sister and two younger sisters.
According to Rumsey, the advice that she kept in mind during the competition, came from the 2017 Mother Round-Up Queen Mary Mackenzie Suess, and that advice was that, "The score is zero – zero, even when you're winning."
The next big Roundup event is the Calcutta tonight at the Sheriff's Posse Grounds on Rawhide Road in Jamestown begiining at 6 PM.
"I'm looking forward to this week's Calcutta, the Parade and the Rodeo. This will be my first Grand Entry. I've been waiting a long time for this," said Rumsey.
Runner-Up Ginna Hahn won awards for Appearance, Horesmanship and Interview.
A rundown of events can be found in the myMotherLode.com Roundup section.
The "Newsmaker of the Day" is heard every weekday morning at 6:45, 7:45 and 8:45 on AM 1450 and FM 102.7 KVML.