Capitol Frog Jump Heightens Anticipation Of A Hopping Good Calaveras County Fair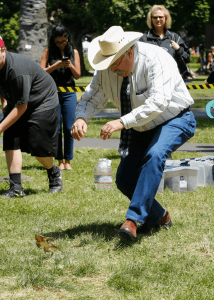 Assemblymember Frank Bigelow and his frog Big Hat Bullfrog at the 43rd Cpitol Frog Jump.

View Photos
Sacramento, CA — While none of the Sac Town frog jockeys came close to breaking Rosie the Ribiter's legendary 21 feet, five and three-quarters inches jump, the 43rd annual Capitol Frog Jump provided a hopping good time under sunny skies.
Hosted earlier today by Mother Lode lawmaker Senator Tom Berryhill at the State Capitol grounds, the event continues to serve as a humorous, unofficial herald to the Calaveras County Fair and Jumping Frog Jubilee, which this year runs from May 18 to the 21 at Frogtown in Angels Camp.
Assemblymember Frank Bigelow served as the master of ceremonies for the event, whose nonamphibious participants included a mix of elected officials, legislative staffers and members of the public.
This year's winner of the Longest Jump trophy went to Assemblyman Kevin Kiley and his frog "Frog the Bounty Hunter," which managed a 12-foot, one inch jump. The Shortest Jump was awarded to Assemblyman Jim Frazier and his frog "Leroy Green," whose jump measured two feet, nine-and-a-half inches.
To view a video clip of the festivities provided by Sen. Berryhill's office, click here.
Below are a few other highlighted results:
Frank Bigelow
Assemblymember
Big Hat Bullfrog
10'4.5″
Kevin de Leon
Senator
River Rover
5'9″
Sharon Quirk-Silva
Assemblymember
Quick-Silver
8'10"
Vince Fong
Assemblymember
Vince the Prince
4'7.25″
John Moorlach
Senator
Fiscal Frogality
10'10"
Bill Brough
Assemblymember
Buddy
7′
Rocky Chavez
Assemblymember
Amphibian Olympian
7'9″
Steven Choi
Assemblymember
Mad Hopper
7'3″
James Gallagher
Assemblymember
Drain the Swamp
9'3″
Mikel Shybut
Senate Transportation & Housing Committee
Frog Speed Rail
4'0.5″
Jill Rice
Educational Testing
Hop Quiz
8'5.25″
Vanessa Wiseman
Caltrans external affairs
Roadie Roundabout
8'11"