Increased Tourism To Calaveras Reflects Murphys 'Gangbuster' Year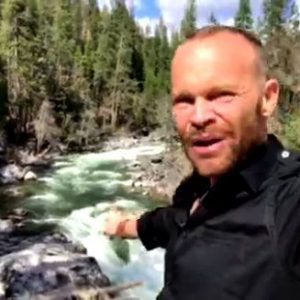 PBS series' Rob on the Road's Rob Stewart at Big Trees State Park pointing to the rushing waters of the Stanislaus River, spring 2017.

View Photos
Murphys, CA — Calaveras tourism officials are crediting an uptick in county visitors to smart marketing and the increasing appeal of Murphys as a destination attraction.
Recently released data within an annual report prepared by Dean Runyan Associates for state tourism officials estimate the tourism industry had an $180 million impact in Calaveras County over 2016, which reflects 2.8 percent in growth from 2015 figures. Related jobs, which last year numbered 2,280 also grew by 2.6 percent over the previous year.
However, the generation of $12 million in local and state tax receipts remained roughly the same over both years. Lisa Boulton, executive director of the Calaveras County Visitors Bureau (CCVB), attributes that to a surge in day trippers last year, who played without staying overnight. She also maintains that the county's nearly three percent rise in the sector's economic impact is comparable to the year-over-year growth it has continued to build since 2012, when the area began to emerge from the recession.
Using Murphys' As A Magnet
"We saw definite increases in tourist numbers, particularly in the Murphys area. We know that Murphys had a gangbuster year in 2016 — because we were hearing from everybody that they were at capacity every single weekend — and most days throughout the summer as well," Boulton shares happily.
She adds that Murphys groundbreaking year had a lot to do with the promotions CCVB did with the state's tourism marketing organization Visit California and that the projects took care to weave in other local attractions.
Explaining CCVB's process Boulton emphasizes, "Every year we work really hard to come up with a budget that utilizes our funding in the best way possible, based on information we have received through workshops and seminars with Visit California, which spends $100 million a year on marketing…and Destination Marketing Association of the West, in order to keep ahead of the curve on best marketing practices for destination marketing organizations."
Spotlighting Some Successes
Looking back at some of the past year's highlights, Boulton points to a couple of heavy-hitting campaigns the bureau partnered on with Visit California that did not cost any money but were requested through them. One, called Hidden Gems, which features two-minute virtual road trip videos, showcased some of Murphys "off the radar" wine tasting options.  "We also brought on a new social media marketing person and are thrilled with the impact," Boulton effuses.
Among the bureau's sharing activities through its social media  channels was a recent visit to Calaveras by KVIE public television's "Rob On the Road" host, Rob Stewart, as seen here. Stewart stayed at Murphys Hotel and spent time at several spots, including Big Trees State Park. California Dream Eater, an "eatertainment" video series featuring Chase Ramsey, who passionately and hilariously travels to sample the best of what the state has to offer, took a colorful tour of Calaveras spotlighting Arnold's Red Apple restaurant that can be seen here.
As Visit California is now heavily marketing this year's highly popular wildflower blooms across the state, which are just beginning to hit locally, Boulton anticipates several weeks ahead of wildflower themed content pushing out to social media outlets.
Looking At The Season Ahead
This season, full lakes will no doubt be draws, although Boulton admits possible issues due to long-term closures of some US Forest Service-managed roads, due to storm damage that access popular spots like Candy Rock, Utica Union and Spicer reservoirs. "We have a lot of people who come out to the Highway 4 corridor, specifically to recreate out on these lakes and those areas that are very beautiful and wrote our Congressman Tom McClintock a letter to see if he can put any pressure on the Forest Service to get those roads ready for this season," she confides.
Among Boulton's predictions for the season ahead is that the tri-county lakes area in the Valley Springs area will be highly popular for camping, boating, kayaking, hiking, biking and equestrian trail activities. "Mokelumne Hill has started to become a real player with more things to see and do," she adds.
With regard to the long-awaited opening of Angels Camp Utica Hotel, a project that has been in the works since 2015, as reported here, Boulton shares the current buzz that a first-phase opening of the downstairs might happen before the end of summer. Also in the not too-distant future, she points to the opening of a restaurant and wine bar by Gretel Allen-Tiscornia, who owns the popular Pickle Patch restaurant, deli and catering company in San Andreas.