Glacier Point Road To Open In Yosemite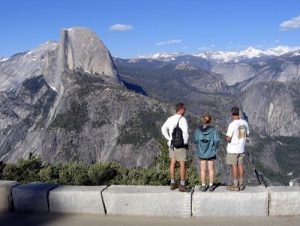 Glacier Point Rd. in Yosemite

View Photos
Yosemite, CA — A sign that the heavy summer tourist season is just around the corner, the Glacier Point Road in Yosemite National Park will open to vehicle traffic tomorrow morning.
There will be limited services at Glacier Point when the road first opens Thursday at 9am. The Glacier Point Store will open at 10am, the following day, Friday. There is no projected opening date for Bridalveil Creek Campground. Most high country trails are still covered by snow, so visitors are advised to use extreme caution when driving. Bears and other wildlife may also be present on or near the roadway.
The Four Mile Trail will be open from Yosemite Valley to Union Point. However, the trail remains closed from Glacier Point down to Union Point due to unstable ice sheets.
Meanwhile, when it comes to opening Highway 120 Tioga Pass, park spokesperson Jamie Richards says, "Park road crews continue to clear snow to get Tioga Road open for the seasonal opening. At this point in time, there is still a lot of snow in the high country. We're making significant progress, but it is still unclear as to when we're going to be able to open Tioga Road."