Mary Mackenzie Suess, 2017 Mother Lode Round-Up Queen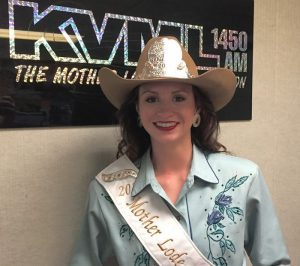 2017 Mother Lode Round-Up Queen Mary MacKenzie Suess

View Photos
It is Mother Lode Round-Up week and earlier this week, Mary Mackenzie Suess was crowned the 2017 Mother Lode Round-Up Queen.
Suess was Wednesday's KVML "Newsmaker of the Day".
On Sunday Night, Suess also won the Horsemanship Award, Photogenic Award, High Ticket Sales Award, Appearance Award, Congeniality Award and the Written Test Award.
Suess has participated in every Mother Lode Round-Up Parade since she was four years old.
"I was being pulled in a little red wagon in that first one. I've been in the Round-Up Parade each year, for a variety of reasons, ever since", said Suess.
Suess said that her parents have been the most supportive people throughout this competition. She has three older brothers, one of whom is in the Tuolumne County Sheriff's Posse. Suess added, "He and I got to walk the night of Coronation together. It was a special moment going on stage with him." Suess also has an eighteen year old American Quarter Horse named Tess.
Currently attending Columbia College, Suess said that she is working towards her Associates in Business Administration with a focus on Accounting. Eventually, she would like to attend Feather River College and further her education with a Bachelor of Science Degree in Equine and Ranch Management.
The first runner-up was Taylor Mossa.
Mossa also won the Peoples Choice Award, Speech Award and Interview Award.
The next big Roundup event is "Band Review" at 6 PM tonight at Sonora High School, followed by the Calcutta this Thursday 6 PM at the Sheriff's Posse Grounds.
A rundown of events can be found in the myMotherLode.com Roundup section here
The "Newsmaker of the Day" is heard every weekday morning at 6:45, 7:45 and 8:45 AM on AM 1450 and FM 102.7 KVML.