Sonora Armory Design Changes Approved By Planning Commission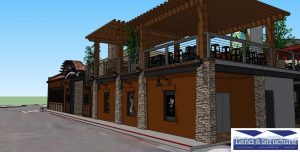 Sonora Armory

View Photos
Sonora, CA — The City of Sonora Planning Commission approved changes to the design of Trado Corporation's Sonora Armory project at 198 S. Green Street.
The entertainment venue, which was approved by the planning commission last year, incorporates the existing Bourbon Barrel, a new beer garden, indoor theater and a retail store. It is expected to open sometime in the Fall. The revised plans include adding a steel frame system to the windows, making alterations to the main front door, modifying awning over the main door, moving a new wall for the beer garden back by two ft. to widen the sidewalk and making material changes to a water tank.
Last night the commission voted 5-0 in favor of the revised plans.
City of Sonora Community Development Director Rachelle Kellogg notes that around 12-15 people were on hand for the meeting, including Trado Corporation's Doug Kennedy. She adds, "There were a few people that spoke about some concerns they had about the project, mainly related to traffic. Doug Kennedy did address their concerns, and said he said he will be working with the neighbors to kind of mediate any issues that have come up as the project has been underway, with construction, and future use of the building."
Last night's unanimous planning commission vote is final unless the decision is appealed to the city council.