K9 Helps Sniff Out Drug Charges For Alleged Imposter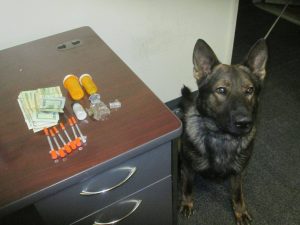 K9 Beau with Klaverweiden arrest evidence

View Photos
Sonora, CA — Sunday night an inoperable license plate light signaled only a whiff of troubles to come for a Sonora man along for the ride.
Tuolumne County sheriff's officials say after stopping a black 1999 Toyota Tacoma on Wards Ferry Road in Sonora, the onscene deputy readily recognized one of the occupants as 31-year-old Joshua Klaverweiden, even though he tried to pass himself off as another by using the name of a family member.
After being called in to assist K9 Beau alerted to presence of narcotics inside the truck seat that Klaverweiden had been occupying. A subsequent vehicle search turned up three small packages containing more than 5.6 grams of heroin and one with more than two grams of methamphetamine; several hypodermic needles; an array of more than seven dozen prescription pills; and more than two hundred dollars in cash that was additionally seized as evidence of drug sales.
As a personal search of his person while being booked into the county jail added to the overall pill count, Klaverweiden additionally faces charges of bringing a controlled substance into jail to those of possession and transportation of narcotics for sale, possession of drug use paraphernalia and false impersonation of a real person.