Update: Possible Flooding Later This Week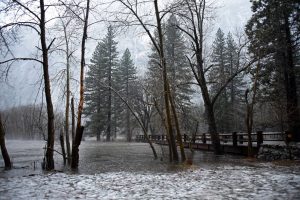 Flooding In Yosemite (archive photo)

View Photo
The Winter Storm Warning issued for the Mother Lode and the western slope of the Sierra Nevada has been extended until 10 AM Wednesday.
According to the National Weather Service, additional snow accumulations above the 1,500 foot elevation will range from one inch to two feet. The higher you go, the more the snow.
Travel may continue to be very difficult to impossible.
If you must travel, keep an extra flashlight, food, and water in your vehicle in case of an emergency.
A strong storm system over the eastern Pacific Ocean will approach the coast of the Pacific Northwest on Thursday night and Friday. An abundance of subtropical moisture will move inland over Central California along the southern periphery of this storm system from Thursday night through Friday night.
Mild air associated with this air mass will cause the snow levels to rise to around 8,000 feet on Friday.
Heavy rainfall and the mild air mass will result in snow melt in areas below 5,000 feet.
In the Sierra Nevada foothills, four inches to half-a-foot of rain is possible from Thursday night through Saturday night. The majority of the rain should fall Thursday night and Friday.
Persons living near rivers and streams in Tuolumne and Mariposa counties, should closely monitor water levels and be ready to move to higher ground if the threat of flooding becomes imminent. If you live in a flood prone area or near rivers and streams, now would be a good time to prepare and have an evacuation plan in place in the event high water becomes a threat to your safety.
Monitor your favorite media source (such as myMotherLode.com) for further hydrologic updates.