Support For Sonora Union High School District Selling Properties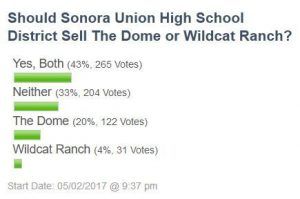 SHS Dome vs Wildcat Ranch Poll

View Photos
MyMotherLode posted an informal poll question about two district-owned properties that are now under advisory committee review at the direction of the Sonora Union High School trustees. The committee is exploring the possibility of declaring the historic Dome building and Wildcat Ranch as surplus properties to potentially be sold. On May 2nd MyMotherLode posted a poll "Should Sonora Union High School District Sell The Dome or Wildcat Ranch?" The majority voted Yes both properties should be sold with 43 percent of over 600 votes. Another 20 percent said the Dome should be sold while another 4 percent voted only Wildcat Ranch should be sold. The remaining 33 percent don't want either property sold.
Sonora Union High School District Superintendent Pat Chabot noted the Dome is an expensive property to maintain with limited use as an educational facility for district students due to access and engineering issues. The Dome structure was built in 1909 and the affiliated outbuildings currently house county Arts Council programs and offices, the district's alt-ed programs through Theodore Bird and Dario Cassina, and the adjacent athletic field is used as well.
The 138-acre Wildcat Ranch and farm is located at the corner of Wards Ferry and Tuolumne roads. The lot is fenced for cattle and another 9 acres is fenced for the garden where corn, potatoes and other produce are grown. Seniors have used the area for senior projects such as raising pigs, testing compost techniques, and an aquaponics set up. Another  two senior projects set up a track for the Sonora High Cross Country team. The ag classes manage the area but the Applied Physics and engineering class has also launched rockets at the property too.