Roundup Queen To Be Crowned This Weekend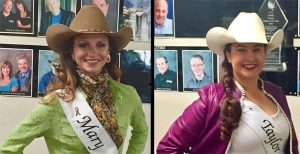 Mary Suess and Taylor Mossa

View Photos
Sonora, CA — It is a big weekend for the two candidates hoping to be this year's Mother Lode Roundup Queen.
20-year-old Mary Suess is a Summerville High School graduate who is attending classes at Columbia College. She says, "I've certainly had a dream since I was a little girl to compete for the Mother Lode Roundup Queen. Growing up here in the horse community, it has definitely always been looked up to as the thing to do."
23-year-old Taylor Mossa is from Valley Springs, and is a graduate of Calaveras High School. She says, "I decided to run for the Mother Lode Roundup Queen because it is a big contest, and it is a huge deal. I never thought  over the past couple of years that I could do it, and this year I decided I would just go for it, and give it a try."
The horsemanship aspect of the competition gets underway at 10am on Saturday at the Posse Grounds on Rawhide Road. There is free admission and it is open to the public. Then on Sunday evening is the queen pageant and coronation at the Mother Lode Fairgrounds, starting at 5pm. There is a $10 cost at the door and hors d'oeuvres will be served.
It is one of several events leading up to the 60th Mother Lode Roundup. Click here for a schedule of events.