A Foot Chase In Sonora Led To the Arrest Of A Wanted Man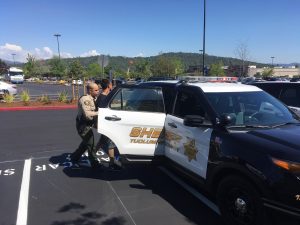 Majer Montoya arrest

View Photos
Sonora, CA – A Sonora man wanted on drug and theft charges was chased down by deputies at the Crossroads Shopping Center, which attracted a crowd of curious onlookers.
Tuolumne County Sheriff's officials report a deputy recognized 22-year-old Majer Montoya, wanted on several arrest warrants related to drug sales, forgery, and possession of a stolen vehicle and property, in a blue SUV in downtown Sonora Thursday around 3:15 p.m. The deputy called for backup and pulled the vehicle over on Sanguinetti Road above Panda Express.  That is when Montoya jumped out of the passenger seat and ran towards the Walmart. Deputies chased him across the parking lot and caught up with him at the store's garden center where he was arrested.
During a search of Montoya, deputies discovered hypodermic needles on him.  In addition to his previous warrants, he now faces charges of resisting arrest and possession of drug use paraphernalia.