Counterfeiter Hits Angels Camp Store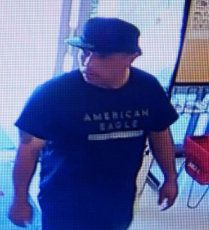 Counterfeit suspect

View Photos
Angels Camp, CA – Angels Camp Police are asking for the public's help to find a man passing fake money.
The incident happened just before 1 p.m. on Thursday when a Hispanic man bought items with a counterfeit $100 bill at Calaveras Lumber located at 155 South Main Street in Angels Camp. Employees were able to provide a photo of the suspect and the vehicle he got into when he left the store, which are in the image box.
The vehicle is described as a late 90's to early 2000 Lincoln Town Car, with custom rims. Police report the car is possibly stolen as its license plate is registered to a Chevrolet, but they did not release the number. Additionally, there appeared to be at least two other individuals in the car.
Anyone who see this vehicle is asked to call 911. Police advise do not approach or try to detain the occupant.