Planning Commission To Review Sonora Armory Design Changes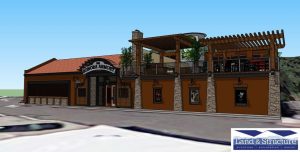 Sonora Armory

View Photos
Sonora, CA — Some revised plans submitted by Trado Restaurant Corporation for its Sonora Armory project will go before the Sonora Planning Commission next week.
Trado is requesting a Design Review Permit for proposed changes to its earlier approved project plans for the facility under construction at 198 S. Green Street. It will house the Green Dog Beer Company, the existing Bourbon Barrel, a retail store and an indoor theater.
Changes up for review include adding a steel frame system to the windows, alterations to the main front door, modified awning over the main entry door, moving a wall for the beer garden back two ft. to widen the sidewalk, make material changes to the water tank and minor alterations to a back wall.
It is the only item of business on the agenda for the meeting that will be held Monday at 5:30pm at Sonora City Hall. The meeting is open to the public.