Groveland Man Caught With Stolen Property For Second Time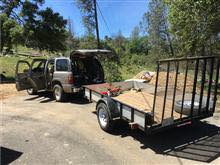 Stolen trail found on Groveland property

View Photos
Groveland, CA – A probation search of a Groveland property netted not only a stolen trailer but drugs on a man already arrested once for having loot in his possession.
Tuolumne County Sheriff's Deputies carried out a probation search at a property on Ferretti Road Tuesday morning.  Investigators report 42-year-old Todd Green was taken into custody after deputies found a trailer, pictured in the image box, believed to have been taken from a barn on Algerine Road in Jamestown on April 24th. Green was already on probation for a similar offense committed in October of last year where he was arrested after sheriff's officials received an anonymous tip.
The owner of the stolen trailer came to the Groveland property and claimed it. He was allowed to tow it from the scene. Upon Green's arrest, deputies also discovered he was in possession of methamphetamine. His bail for this latest arrest is set at $10,000.