Update: Highway 49 Traffic Accident Leads To Power Outage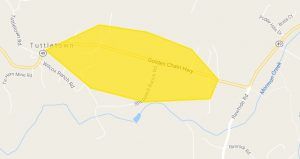 Tuttletown outage

View Photos
Update at 2 p.m.: A PG&E crew was able to get the lights back on for 55 customers in the Tuttletown area faster than first estimated. The company had given a restoration time of 6 p.m. but were able to complete repairs to a power pole, damaged in a solo-vehicle crash, by just before 2 p.m. and restored power to those remaining customers. (Further details on the crash can be found at the bottom.)
Update at 1:15 p.m.: The remaining 55 PG&E customers that have been without power since just before 9 a.m. will have to wait a little longer to turn on their lights. PG&E has pushed back the restoration time for a second time, from 4 p.m. to 6 p.m.  A solo-vehicle crashed into a power pole on Highway 49 in the Tuttletown area causing the outage along the highway, Sheppard Ranch, Wilcox Ranch and Sapphire Ridge roads.   The company reports a crew is on the scene working on the repairs.
Update at 12:45 p.m.: PG&E has pushed back the estimated repair time from 11:45 a.m. to 4 p.m. in the Tuttletown area where a solo-vehicle crash into a pole this morning resulted in a power outage.
Update at 10:50 a.m.: According to the CHP Sonora Unit there is not yet any estimated time of completion for the replacement of a PG&E power pole located on Highway 49 in the Tuttletown area that a driver hit earlier this morning. At this time, the utility reports that 55 customers are without power. The area remains under one-way traffic control.
Original Post at 9:27 a.m.: Tuolumne County, CA — There is a power outage impacting 115 PG&E customers in the area of Highway 49 and Tuttletown.
It is in the area of a crash involving a rolled over vehicle and a damaged powerpole. The CHP reports that an ambulance has been dispatched to the scene. Travel with caution in the area, and be prepared for activity. PG&E estimates that the power outage will be restored by around 11:45am.