Food Court Project Passes Big Hurdle: TCEDA To Receive Funding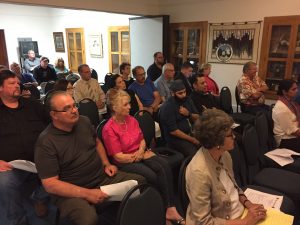 Big Turnout At Sonora City Hall

View Photos
Sonora, CA — While a final vote will be in two weeks, the plans for a food court next to the AM/PM mini mart received unanimous support from the Sonora City Council Monday night.
The proposed facility, which could house up to three fast food style restaurants, is planned to be built at the former site of Sonora Motors at 15 Pesce Way, off Highway 49. Three neighbors spoke in opposition to the project, arguing that the extra traffic on Pesce Way would negatively impact their quiet neighborhood  that has families with young children. In addition, Sharon Marovich with the Tuolumne Heritage Committee argued that a food court, with fast food restaurants, is not a suitable entrance for the gateway to downtown Sonora.
Five people spoke in support of the project, noting that the developers, Jaykay Properties, have been great members of the community, and the project would create new jobs and additional economic growth. Proponents included Mike Ayala representing the Tuolumne County Chamber of Commerce, Glenn Caldwell, President of the Tuolumne County Business Council, and Mike Lemke, President of the Tuolumne County Building Industry.
A main point in favor of the project was that the developers are going to include an entrance via the AM/PM parking lot, which will reduce the traffic on Pesce Way. If the site was sold to a different developer, the traffic would be forced to utilize Pesce Way exclusively, which would add even more traffic to the neighborhood.
The council voted 5-0 in favor of the project. It was the initial reading of the item, so a final vote will come during the meeting on May 15. The developers indicated that the space will be filled after receiving approval, so no tenants have been signed to this point.
In addition, the council voted 3-2 in support of increasing funding to the Tuolumne County Economic Development Authority next budget year by $15,000. Council members George Segarini, Matt Hawkins and Jim Garaventa were in favor, with members Connie Williams and Mark Plummer opposed. The Tuolumne County Supervisors already endorsed, unanimously, to increase its spending on the TCEDA next year. The TCEDA is a joint powers authority between the city and county. Supervisors Sherri Brennan and Randy Hanvelt were on hand for the meeting.